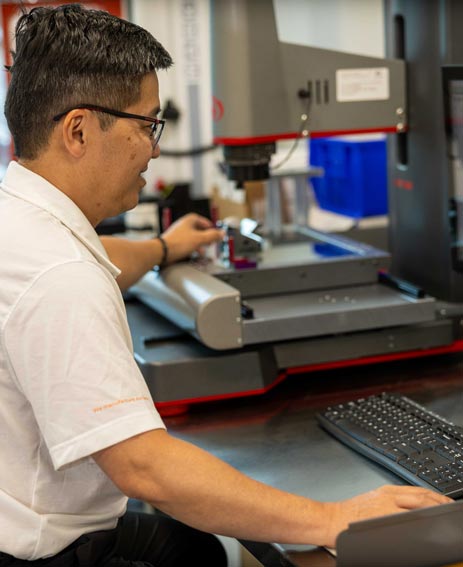 Good business is all about trust: customers trusting that their expectations will be met, that companies stand behind their products, and that individuals work with integrity and care. At Sterling, quality management and ISO standards are crucial systems for building and ensuring our clients' trust.
At Sterling, we understand the life-changing potential of the devices and components that we manufacture; we also fully embrace the strict, regulatory environments in which they are designed, manufactured and used. Repeatable quality is the key to success, both our clients' and our own. That's why we've built our entire business around a rigorous and sophisticated Quality Management System, fully integrated into our ERP software with production and change control management, with complete electronic document control.
Our quality assurance process includes a full control plan for Receiving, In-Process and Final Product inspections, and we have a rigorous Product Part Approval Process (PPAP) and First Article (FA) process for new products.
Lastly, package and labelling process is fully integrated into our state-of-the-art ERP system, allowing us to provide our clients with full Serialization and Lot Control tracking.
ISO 13485:2016 registered; C-TPAT and 21 CFR part 820 compliant; FDA and Health Canada registered facilities
Continuous training and procedural improvement of all our staff to consistently reinforce our Total Quality Environment (TQE)
Continuous Improvement (CI) initiatives in every facet of our organization; Six Sigma certified staff, 5S initiatives
A team of Quality Engineers and Quality Inspectors involved at every step throughout the manufacturing life-cycle
Implementation of new products and revision changes through the First Article (FA) process or Production Part Approval Process (PPAP)
Complete validation of equipment through Installation Qualification (IQ), Operational Qualification (OQ) and Performance Qualification (PQ)
Integrated ERP / MRP / QMS systems for production and change control management
Complete control plans and utilization of Statistical Process Control (SPC)
Advanced metrology capabilities including CMM, Vision Sytems and Optical Comparators